Parks & Recreation Areas
In the Louisville area alone, the Metro Parks Department manages more than 14,000 acres in 123 parks. Area parks offer a side variety of outdoor activities and venues, including playgrounds, community centers, swimming and wading pools, performing arts, golf courses, athletic fields and courts, lodges and shelters and hiking, biking, fishing and horseback riding opportunities. Here's just a sampling of what you can enjoy.
METRO PARKS - 502-456-8100

Central Park - Fourth St. and Park Ave.
Located in the heart of old Louisville, Central park serves as the summer venue for free Kentucky Shakespeare Festival performances and the St. James Art Fair in the fall. Tennis and volleyball courts, a spray fountain and enormous trees make Central Park an ideal location to relax and play in the middle of the city.
Cherokee Park - Eastern Parkway and Cherokee Road
This 409 acre park is one of the original parks designed by Frederick Law Olmstead (the renowned planner of New York City's Central Park). It includes everything from archery ranges, a 2.4 mile scenic loop, a golf course and walking trails o fountains and even a bird sanctuary. It's located among the rolling hills of the Highlands area and offers plenty of open meadows and wooded areas.
Iroquois Park - Southern Parkway and Taylor Boulevard
Iroquois Park is home to the recently remoceled, open air Iroquois Amphitheatre, which can accomodate 2,407 people. The park itself offers brerathtaking views, a golf course and a 10,000 year old forest that is the focal point of this incredible "scenic reservation" planned by Frederick Law Olmstead in South Louisville.
Jefferson Memorial Forest - 11311 Mitchell Hill Rd., near I-265 and I-65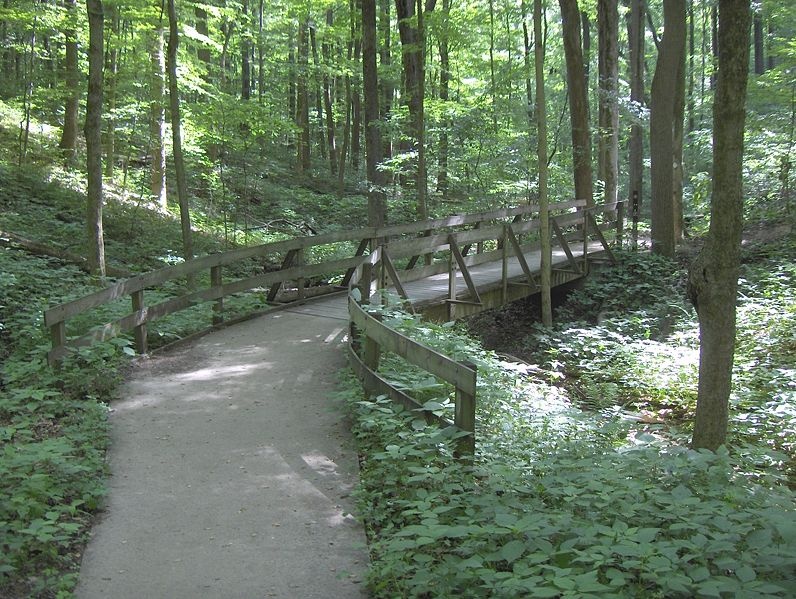 Located in Fairdale, the Jefferson Memorial Forest offers nature lovers a chance to get away from it all. With excellent hiking trails, towering oak trees, campgrounds and entertaining and educational public programs, the forest is an excellent outdoor playground. An old schoolhouse serves as the welcome center, gift shop and meeting facility. For more information, check the website for the latest on the parks adventure programs, retreat offerings and ways to get involved.
Long Run Park- Flat Rock Road of Shellbyville Road
Located east of Middletown, Long Run Park features a 28 acre fishing lake, horseback riding trails, a golf course and numerous picture-perfect picnic locations throught its 394 acres of rolling hills and open meadows.
Seneca Park - Cannons Lane nad Pee Wee Reese Road
Located in the heart of St. Matthews, Seneca's 333acres encompass a popular 1.2 mile walking path and 3.1 mile cross country trail, a golf course, numerous athletic fields a d courts, horseback riding trails and more.
Shawnee Park - Broadway and Southwestern Parkway
Shawnee Park is an ideal place for picnics, sports, parades and large public gatherings. The park includes a state-of-the-art outdoor athletic complex, a golf course and also has river walk access.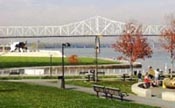 Waterfront Park - River Road between 2nd Street and Frankfort Avenue - 502-574-3768
Designed by noted architect George Hargraves, this $94 million park along the Ohio River attracts 1.5 million visitors yearly and has been names one of the nation's Top Ten Urban Parks by the Urban Land Institute. It is host to more than 100 events annually, including public concerts, fireworks displays and numerous cultural festivals. In addittion to its state-of-the-art playground equipment, fountains and biking paths, it is the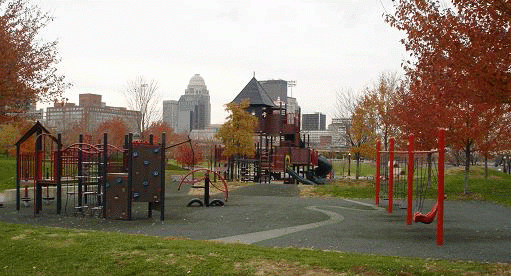 largest municipal park in the nation to offer free, public wireless internet access. Construction of a pedestrian walkway between Louisville and Southern Indiana is expected to be completed in 2009.
STATE FOREST AND PARKS
Charlestown State Forest - Highway 62, Charlestown, IN
812-256-5600
state.in.us/dnr/parklake/parks/charlestown.html
Charlestown State Forest is home to blue birds, black vultures, Bald Eagles and a variety of other bird species. Scenic views of the Fourteen Mile Creek Valley, Devonian Fossil outcrops and area of sinkhole topography are seen alongthe park hiking trails. Hiking trails abound. Fishing and campiong opportunities are also offered. Open daily from 7 a.m. till dusk.
Clark State Forest - U.S. 31, Henryville, IN 812-294-4306
Clark State Forest, established in 1903, is the oldest state forest in Indiana and encompasses 24,000 acres. Open year-round.
Dream Lake Recreation Park - 1217 Dream Lake Road, Rural Rte 2 off Hwy. 60, Borden, IN 812-246-5421
This state recreation areas has picnic facilities, hiking trails, a beach and a 286 site modern campground. Rowboat rentals are offered. Hunting is allowed in some areas. Open March - October. Camping is available Memorial Day - Labor Day.
E.P. "Tom" Sawyer State Park - 3000 Freys Hill Road near Wesport Rd & I-265 502-426-8950
Located in East Louisville, E. P. "Tom" Sawyer Atate Park encompasses 369 acres dedicated to physical fitness, recreation and the natural beauty of open meadows, creeks and rolling hills. With fitness and nature trails, a gymnasium that seats 600, exercise and physical education classes, athletic fields and courts, an Olympic-size indoor swimming pool, arts and crafts programs, BMX track amd dog park, Tom Sawyer State Park is a common venue for people with many interests.
Falls of the Ohio State Park & Interpretive Center - 201 W. Riverside Dr., Clarksville, IN 812-280-9970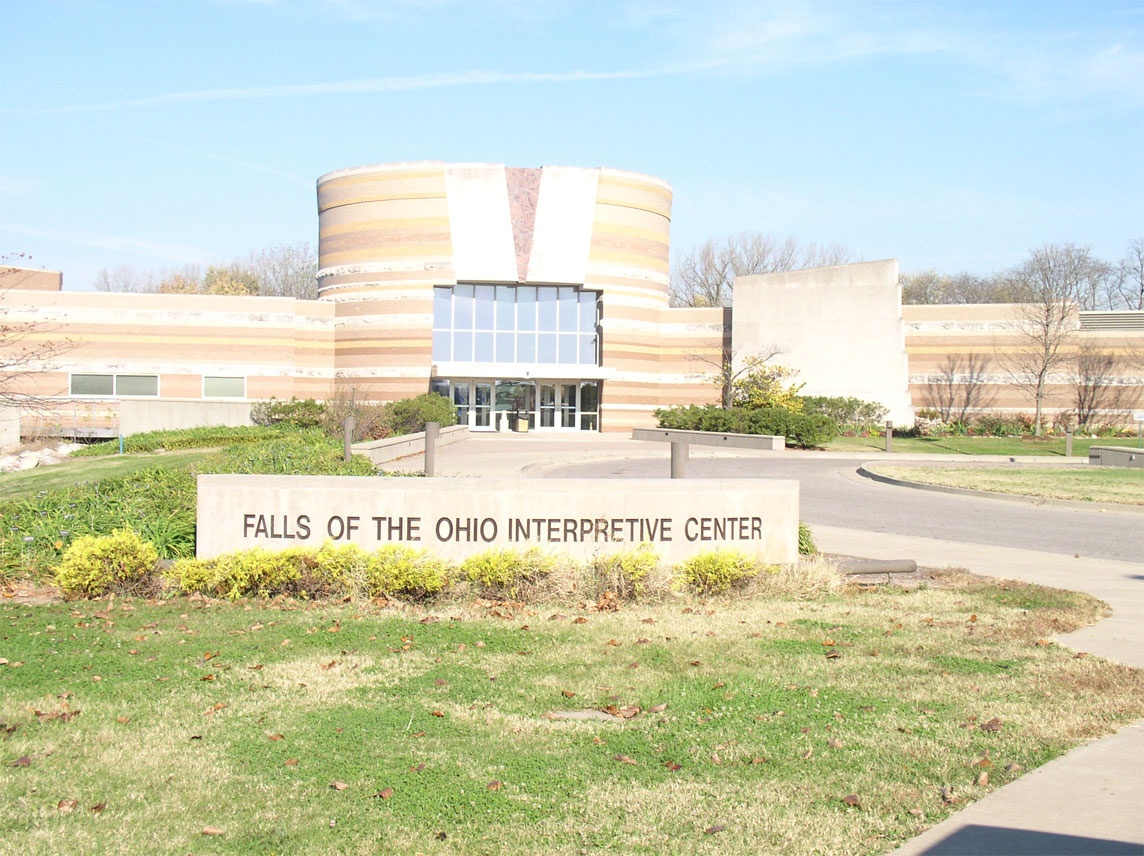 Along the banks of the Ohio, off I-65, Exit 0
The park features 386 million year old fossil beds, which are among the largest naturally exposed Devonian fossil beds in the world. The interpretive center includes an exhibit gallery and video presentation. Visitors can enjoy exploring the 220 acres of fossil beds, in addition to fishing, hiking, bird watching, and picnicking. August through October provides the best views of the beds, with the Ohio River at its lowest level. Open seven days a week; dawn to dusk. Numerous special events are held through the year including Sun Circle Celebration, A Native American Arts & Crafts Festival, Archaeology Day and Falls Fossil Festival. The Interpretive Center hours are Mon - Sat 9 a.m. - 5 p.m.; Sun 1 p.m. - 5 p.m.